Today is Friday the 13th, and it is in October! If ever there was a day for every single library to celebrate the genre, today is it! This is a day that even the most stuffy and genre snobby amongst us lets down their defenses, just a little, to embrace the horror fun.
Heck, this morning I even heard the guys on sports radio discussing their favorite horror movies and why some things scare them and others do not.
So since everyone has horror on the brain today, I thought I would share a bit of the historical background on both Friday the 13th and Halloween, and who better to do that than the Library of Congress.
Yes, the LOC has a ton of information online and in the building on both. I hope you re not surprised by this admission.
Here is an article from their site, "
Who's Afraid of Friday the Thirteenth?
" It explains the worldwide reaction [or not] to this date and what it means in different places. At the conclusion of the article there is
a link to an article about other "auspicious" days on the calendar
. Plus it has this great photo I have copied into my post on the left. Love the history part of this!
But that is just the tip of the horror iceberg at the LOC.
Click here to see everything Halloween related
available through their online portal, including
this great article from their American Folklife center on the history of Halloween.
You could spend all day
going through all of these links
, and why don't you! Today is the best day for it. No, but seriously, the LOC is a great resource for Halloween and many other pop culture things as they collect Americana as well as knowledge. Don't forget that as you help patrons all year long.
And, finally, if you can make it to the building itself, the LOC is running a a month long, all ages, FREE party to celebrate all things scary.
Click here to sign up
. I have also included the details below.
Happy Friday the 13th all! Watch out for crazier than usual patrons today.
LOC Halloween: Chambers of Mystery
Pop-up Display
The Library of Congress's latest pop-up exhibit tells the intriguing tale of
Halloween
and
Día de Muertos
through a dazzling range of treasures from across the collections. At
LOC Halloween: Chambers of Mystery
, you'll learn about the ancient and mysterious traditions behind these autumn holidays through a rich selection of books and archival special collections. Experience the spooky and solemn celebrations through sound and video recordings, prints and photographs, film scores and sheet music, chapbooks, and movie memorabilia. Guests are invited to attend in costume.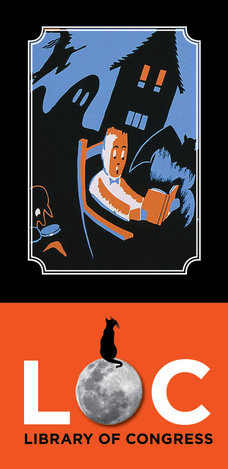 See and hear storytellers spinning yarns about ghosts and witches, and learn about "Trick or Treat" and the art of disguise. Engage in reflection and remembrance at an altar for Día de Muertos, and listen to ghostly ballads from America's oral tradition. Be engrossed by classic film clips from "The Bride of Frankenstein," "Nosferatu," and "Carnival of Souls," and thrilled by old-time radio programs of mystery and horror. Confront and battle the Devil alongside the Brazilian outlaw Lampião, and sit in on spooky séances with the great Harry Houdini. Be inspired by the iconic artwork of Edward Gorey and the timeless poetry of Robert Burns. Enjoy collections and activities for kids, or snap supernatural selfies for social media! The folk customs, fine art, pop culture, and literature of Halloween and Día de Muertos are on display at LOC Halloween: Chambers of Mystery…only at your Library, the Library of Congress.